Best Gloves for Wheelchair Users [Top 5 Picks for 2023]
Wheelchairs assist people who are unable to walk due to disability, illness, or age-related factors. The wheelchairs are propelled through the use of the upper body, arms, and hands to move the wheels. Gloves are essential for wheelchair users to keep hands clean, avoid getting calluses and blisters and grip the wheels betters.
There are several types of wheelchair gloves from which to choose. We've compiled a list of our top choices and have chosen Rebo Wheelchair Gloves as the best overall gloves for wheelchair users. They are easy to take on and off, have padded leather palms, and moisture-wicking fabric. For comfort and durability, these gloves are our top pick.
Continue reading for more of our top picks for gloves for wheelchair users.
Invalid table id.
Related post: Best Wheelchairs
Top Picks for Best Wheelchair Gloves
Rebo Fingerless Wheelchair Gloves
Moisture-wicking 4 way stretch material with leather padding for palms.
The Rebo Fingerless Wheelchair Gloves offer comfort and durability with their four-way stretch material and leather palms. The wrist closure strap helps to give a snug fit and stability. Breathable, moisture-wicking fabric keeps hands dry and comfortable.
The dense stitching and reinforced design make these gloves durable. The gloves have pullers to make them easier to take off. The full thumb makes it easier to grip the wheels, and the shock-absorbing padding keeps palms from aching.
REBZ Super Full Finger Gloves
Made from 100% Leather with a warm, comfortable inner liner.
The REBZ Super Grip Full Finger Winter Unisex Gloves are an excellent choice for those cooler days and nights. These full-finger leather gloves will keep your hands protected from the wind while the inner wool lining keeps them warm and comfortable. The firm, rubber, anti-slip material helps your hands get a better grip on the wheels.
These winter gloves also have a Kevlar insert on the sides of the gloves. Kevlar is more robust than steel and will keep your hands protected against cuts and abrasions.
Kango Fitness Fingerless Glove
Soft leather fingerless gloves with a mesh back and double padded palms.
If you're on a tight budget, then the Kango Fitness Leather Fingerless Mesh Glove is a great choice. The soft leather will give your hands a comfortable fit, while the mesh backing will help keep them cool when the weather is warm. The double padded palms absorb shock to help keep hands and fingers from getting blisters and calluses. They're lightweight and will keep your hands clean, dry, and comfortable.
Care+Wear Wheelchair Gloves
Water-resistant gloves with velcro closures.
Care+Wear Wheelchair Gloves are the perfect choice for mobile device users that prefer a full-finger glove. They have a velcro closure and zipper for ease in putting them on and taking them off. Fingers have a touch-screen conducive material so users can easily use their mobile devices without removing their gloves. 
These wheelchair gloves also have a grip feature to make it easier to move your wheelchair. The anti-slip padded palms protect your hands from blisters and calluses.
RehaDesign Children's Wheelchair Gloves
Leather gloves with an adjustable strap are perfect for small hands.
RehaDesign Children's Wheelchair Gloves have an open finger design, so children don't have to try and fit their fingers into small finger holes. They are made with soft leather and have a firm grip pad to make pushing wheelchairs easier. The adjustable strap allows the glove to "grow" with the child's hands. 
What to Consider When Buying Wheelchair Gloves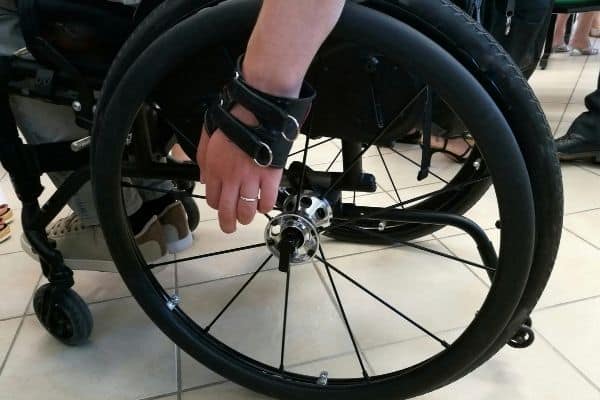 Material
Look for material that stretches so that it's easier to put on your gloves. You will also want a breathable fabric to keep your hands dry. Polypropylene, polyester, and nylon are lightweight materials with moisture-wicking capabilities.
Durability
In addition to looking for a durable material, look at the stitching. Your gloves need to be able to stand up to everyday use and possibly less than ideal weather conditions. 
Palm Protection
Look at the gloves' construction in the palm area. Gloves should have extra padding to absorb shock and protect the palms from gripping, pushing, and pulling on the wheels. 
Comfort
You will be wearing your gloves for extended periods. You will want a glove that fits well, isn't too tight, and supports your wrists. 
Frequently Asked Questions
Do I need wheelchair gloves?
While you may not "need" wheelchair gloves, you should most definitely wear them. The wheels on your chair come in contact with the ground, so gloves prevent your hands from getting dirty. Gloves also help with gripping the wheels so that you can get a better grasp. The padding and material prevent blisters and helps keep your hands pain-free.
Can't I buy a pair of golf gloves?
While you can purchase fingerless gloves designed for golfers, you might want to consider the added benefits of gloves specifically designed for wheelchair users. Full thumb coverage, extra padding in the palm area, added wrist support, and pullers for ease in donning and doffing of gloves are some of the features that aren't available in your standard pair of golf gloves.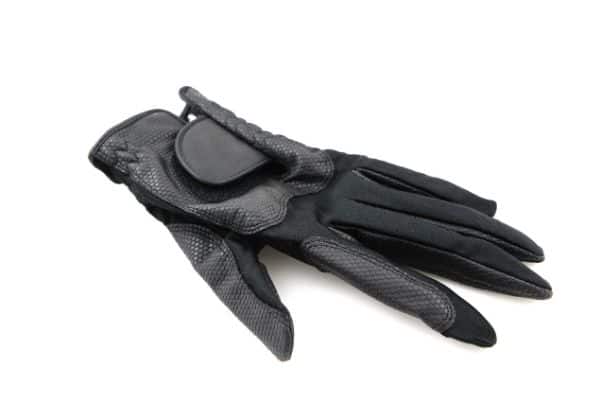 Do I need a special pair of gloves for wheelchair races?
Suppose you have a very active lifestyle that involves pushing your wheelchair for miles regularly or competitive wheelchair racing. In that case, you will want gloves that are specifically made for your level of activity. These types of gloves feature full finger coverage with added padding and foam. You want gloves that provide added stability and are designed for the push.
Last update on 2023-01-20 / Affiliate links / Images from Amazon Product Advertising API