Senior living, or independent living, can open up a whole new world for the elderly and their loved ones. But with so many options available, it's easy to get confused and overwhelmed. So we'll start from the beginning: what does senior living mean? Well, in short, the term can be described as housing arrangements for people aged 55 and over, typically in a community environment.
Senior living means community housing arrangements for elderly people who are still active enough to manage in their daily activities, but who are seeking an aging-friendly community as a place to retire. 
Related post: Best Rollators and Walkers for Seniors
Types of Retirement Homes
Senior living housing all have different levels of care, lifestyles, and prices. The housing solutions vary from apartments to free-standing houses. What they all have in common is that they're low-maintenance, compact, and accessible to navigate to suit the elderly. Most of them offer optional services that are popular for seniors such as housekeeping, transportation and (non-acute) nursing and medical care.  It's important to ask questions and do plenty of research to work out what the best choice is for your circumstances.  Here are some of the different choices for senior living:
Retirement Communities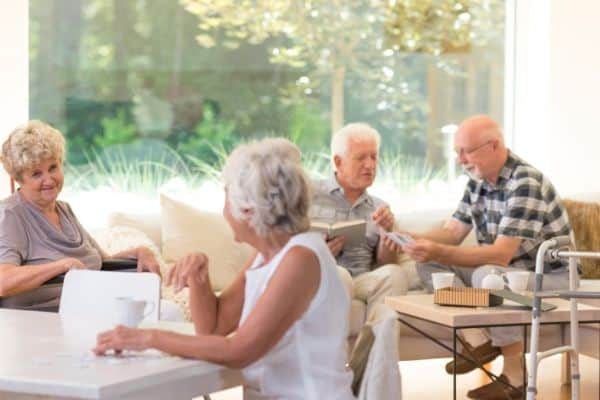 This is a suitable option for active seniors who don't need help with daily activities but are looking for company and want to live with other seniors. Retirement communities are usually age-restricted, so at least one of the residents needs to be 55+. The units may be apartments, condos, or single-family houses – with the option of buying or renting. So, you still have your own private home, but there are lots of opportunities to socialize with other seniors.
Retirement communities can include facilities such as swimming pools, fitness centers, tennis courts, and clubhouses. Many of them also have the option of taking part in community activities – movie nights, arts and crafts, holiday gatherings, etc.
Continuing Care Retirement Communities (CCRC)
Continuing Care Retirement Community, sometimes also known as life plan community, is a long term care option where many needs can be met in one and the same community. It's a good option for those who want to stay in the same place through different phases of the aging process.
In order to stay in the community, seniors need to be independent. If and/or when you require a higher level of care, you have the option of moving into the community's assisted care, nursing home, or memory care facilities. CCRCs usually include medical services, housekeeping, meals, and security systems. There may also be social activities and other amenities included.
Independent Living Facilities
Independent living facilities are for seniors who don't require any daily care but want to live in multi-family units close to other seniors. There also access to services such as property maintenance, housekeeping, or transportation. Many of the independent facilities arrange social activities and have a common area with amenities (swimming pools, gym rooms, and dining areas, for example).
Low Income or Subsidized Senior Housing
Many seniors aren't as financially prepared for retirement as they would like to be. Luckily, there are a number of options for low-income senior housing, available through the government and through the private market.
For example, there are senior housing complexes subsidized by the U.S. Department of Housing and Urban Development (HUD) for seniors with a lower income.
Senior Apartments or Congregate Care Housing
These are apartment complexes restricted by age, typically 55+ or 62+. They're aimed at seniors who are independent in their daily lives. Rent may include housekeeping, recreational programs, community dining room, and other common areas. The accommodation, and the cost, can range from luxury apartments to public housing for low-income seniors.
The Perks of Senior Independent Living
Many studies have shown the clear benefits of living in a community as you grow older, and what a positive impact it has on your health and overall well-being. Many elderly become isolated in their own homes and long for social activities and companionship. For those people, senior living may be an ideal solution.
Other benefits of senior living communities:
Enjoy amenities close to home. Whether you want to go swimming in the morning or play some tennis with a friend – senior living communities make it easy to stay active and get out of the house. You'll never have to travel far with everything within walking distance.
Meet like-minded people and make new friends. Loneliness can be detrimental for anyone, leading to health issues like depression and high blood pressure. Living in a community can give you a new sense of purpose and be just the cure you need. Most assisted living communities offer social activities which will make the process of meeting new people a breeze.
Don't worry about home maintenance. After a lifetime of maintaining a house and a garden, it can be nice to let those things go and focus more on enjoying life. With the option of housekeeping services, you can do just that.
Get intellectual stimulation and start a new hobby. Mental stimulation has many positive effects on your health and may lower the risk of long-term cognitive decline. Senior living communities offer great opportunities for lifetime learning. They may have activities such as arts and crafts, woodwork, language lessons, and gardening. Whatever your cup of tea is, you're likely to find something that matches your personality.
Feel safe and secure. Being in a senior community means that you can feel safer than in your own home. You have other seniors and staff around you to offer a helping hand if needed. Senior living communities are also equipped with alarm systems to offer peace of mind for the residents. And with an emergency call button in the apartment, you can notify staff if you fall or injure yourself.
Is Senior Independent Living the Right Choice for You?
As you get older, it can sometimes be hard to accept that you become more limited. It may seem like you're losing independence by moving to an independent living community. But to the contrary, independent living can make your life easier with more independence and the ability to fully enjoy retirement. Your activities of daily living become less of a burden if you have a community to offer support and help.
That being said, senior living may not be the best option for everybody. If you're in the process of deciding about housing options, read through the following questions:
Are you finding it hard to maintain your current home?
Do you have a social network of family and friends?
Is it easy for you to get around? Driving, attending social activities, etc.
How is your health (and the health of your spouse?)
How to Make the Transition to a Senior Living Community Easier
The prospect of moving out of your house and into a retirement community can bring on a broad range of emotions, from excitement to anxiety and shame. It is a major life event and it can be stressful for anyone. But you can take a lot of the pressure off by knowing what to expect and how to prepare yourself or a loved one.
Know what to expect. Do plenty of research beforehand so you know the area and the community you're moving to.
Pack in advance and avoid stress. Make sure that you prepare the move well in advance. Take all the help you need to make the process as smooth and stress-free as possible.
Decorate your new home. It may not seem like much, but planning how to decorate your new home can make it feel more homely and welcoming.
Socialize. Meeting other residents and taking part in social activities is an important part of adjusting to your new living situation. It may be tempting to stay in your apartment, but you'll feel so much better after meeting neighbors and potential new friends.
Be kind to yourself. It's completely okay if it takes a while for you to feel at home in a senior living community. Everyone is different and for some people, it takes longer to adjust.
Things to Consider When Moving to a Senior Living Community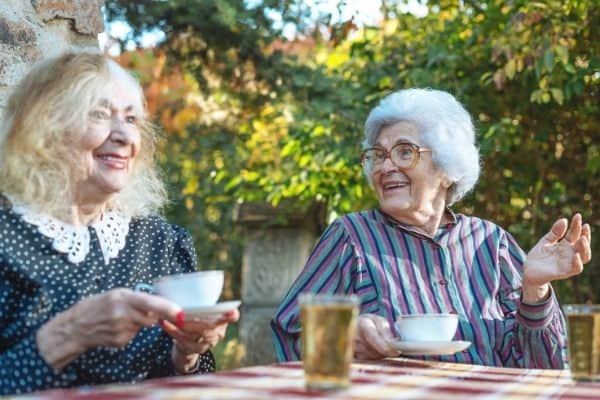 If you've made the decision to move to a retirement facility, you're likely in the process of finding one that best fits your needs. With so many different services being offered in senior communities, think about what's most important to you, today and in the future. For example, if you value exercise, consider an option with fitness classes, a swimming pool, or other exercise areas.
We've gathered a list of other things to think about when you visit a retirement community to make the process of choosing easier for you.
People
One of the most important things is that you find a place where you can connect with people, and have a sense of belonging. When you visit the community, talk to some of the other residents to find out if you have any common ground. Are they people with similar interests who you would like to spend more time with? Are the staff friendly and welcoming? The first impression is often the most accurate.
Size and Location of the Community
Many retirement communities are located in warmer states, such as Florida and California, which has great benefits for older adults. However, you may not want to live far away from family and friends.
Senior communities come in many different types and sizes, and with a variety of living options.  It's up to you to decide if you prefer something small and intimate or a busier place with more people. Do you want a compact and cozy apartment or do you prefer a stand-alone house? You may also want to find out if the area is close to local amenities such as public transport and grocery stores.
Accessibility
Look around the buildings to find out how accessible it is. Do you feel safe moving around the area? Are the local amenities within walking distance? If not, is there transport or will you need a car to get around? Are the common areas well maintained? Do the houses or apartments have safety equipment such as grip bars and nonslip floors?
Social Activities and Recreation
Taking part in social activities is a great way to meet people and also one of the best things about a senior living community. Find out what the social opportunities look like, in terms of activities and hobbies. Whether you want fitness classes or a chess club, most communities will have a selection of activities to fit different personalities.
Personal Services
Consider how much you want in terms of personal service and make sure it aligns with what the community can provide. Do you need housekeeping, laundry services, or transportation? Are the services available to all residents or only those in assisted living care? Do they come at an extra cost?
Frequently Asked Questions
What is the difference between senior living and assisted living?
Senior living means housing for seniors who can handle their personal care and live independently. Many older adults choose to move to a senior living community because of the social aspect and low-maintenance houses. Assisted living is a type of long-term care, providing a combination of housing, personal care services, and skilled nursing. They're for seniors who require more health care and assistance with daily activities.
Who qualifies for senior living?
Since senior living is about age, you generally need to be a certain age to qualify. In most cases, this means over 55 or over 62 years of age. However, you can be younger than 55 as long as a spouse or another person in the household is meeting the age criteria.
How much does senior living cost?
The cost of senior living communities can vary greatly. It depends on location, level of service, size, and type of senior community. The monthly fees can range from $1500 to $4000. For assisted living facilities the cost can be between $3500 and $10,000 per month. You also have the option of subsidized senior housing for those with a lower income.
Mirjam Ekstrom has worked in aged care and has personal experience caring for a person with dementia. Mirjam is a freelance copywriter and content writer, specializing in online articles that deliver information in a straight-forward and engaging format. Read more of Mirjam's work at mirjamcopy.com