Best Wheelchair for Stroke Patients [Top 7 Recommendations for 2023]
When you're recovering from a stroke you may need a wheelchair to assist you in your daily activities. Having the right wheelchair means you'll regain freedom and mobility, and it will help you towards recovery. However, suffering from a stroke affects people differently and you need to choose a wheelchair based on the gravity of your symptoms and your unique circumstances.
So, what's the best wheelchair for stroke patients? In this guide, we provide all the necessary information about or top choices for wheelchairs to help you make an informed decision. Our best overall pick is the Karman Healthcare Ergonomic, due to its ergonomic design and compact construction – making it an excellent choice for most stroke patients.
Invalid table id.
Related post: Best Wheelchairs for Amputees
Best Wheelchair for Stroke Patients
Karman Healthcare Ergonomic Wheelchair
Ultra-ergonomic, innovative design and the lightest wheelchair on the market.
The Karman Healthcare is an excellent mobility device for all-round purposes. It's by far the lightest and most compact wheelchair on the market, weighing only 19,8 lbs. By combining a special metal with innovative design, the manufacturers have taken lightweight to a whole new level.
The key benefit of this wheelchair is the ultra-ergonomic design making it well-suited for stroke victims. Every element that is used on a daily basis, from the seat to the ergonomic hand rim, is made with extra comfort and functionality in mind. The S-shape seating frame is designed to fit the body's natural curves. This means less risk of developing pressure ulcers and scoliosis.
With companion brakes, you can easily slow down or maneuver a tight space. And with the back folded down and footrests and rear wheels removed, it transports easily.
Invacare 9000 XT High Performance Wheelchair
A durable and high-performance wheelchair with superior comfort.
The Invacare 9000 XT is a sturdy and high-performance wheelchair, offering premium comfort for a stroke patient. You can adjust your centre-of-gravity which provides a custom fit, and with urethane casters, you'll experience a smooth and easy ride. Dual-axle gives you the option to self-propel or be pushed by a caregiver.
Overall the 9000 XT is a wheelchair built to last, low-maintenance, and with superior quality. The seat and back have padded nylon upholstery, which is both comfortable for the user and easy to clean. Padded arms allow you to pull yourself closer to a desk or table easily. The leg rests can be elevated and come with padded calf pads for extra comfort and pressure relief. The Invacare 9000 XT has a weight capacity of 250lbs.
Drive Medical Wheelchair
A great pick if you want a reliable, comfortable and affordable wheelchair.
The Drive Medical Blue has a cutting-edge design making it comfortable and well suited for stroke patients with hemiplegia. 18" padded nylon seat ensures correct support and is made for easy cleaning. This wheelchair has tires with push-to-lock function for maximum safety and comfortable transport. Detachable desk arms and swing-away leg rests make for customizable support.
Light, narrow, and easy to maneuver, yet with solid construction, the Drive Medical Blue is a perfect choice if you want an affordable, reliable, and comfortable hemiplegia wheelchair. It holds up well compared to more expensive models, with good features and well-built design.
On the minus side – some people have experienced difficulty folding and unfolding the chair. The wheels make this wheelchair a better fit for indoor use and can be rough on some outdoor surfaces
Drive Medical Steel Transport Wheelchair
Lightweight wheelchair that folds flat for easy storage and transport.
The Drive Medical Lightweight is a compact and, as the name suggests, lightweight manual wheelchair. Despite being compact and light, it's reliable and offers stability with its durable steel frame. The chair and backrest fold flat and rear wheels have quick-release for easy storage.
Due to the chair's compact size (overall width 21.5), you'll find that it fits easily through narrow doorways, making it very flexible to use. With cushioned armrests and swing-away footrests, you'll sit comfortably. The nylon seat upholstery is simple to keep clean and overall, the Drive Medical Lightweight is a low-maintenance wheelchair, making it a solid choice for post-stroke patients.
However, the Drive Medical Lightweight can be difficult to maneuver on uneven terrain, making it less suitable for longer outings.
Drive Medical Reclining Wheelchair
Innovative reclining wheelchair that offers extra stability for stroke survivors.
The Drive Medical Silver is a full reclining wheelchair with a new state-of-the-art hydraulic mechanism, which allows for adjustments up to 180 degrees. It provides both stability and comfort with a cushioned head immobilizer for extra support, which can be helpful if you have more severe symptoms after suffering from a stroke.
This mobility aid comes with padded armrests, and swing-away elevating leg rests to ensure a comfortable ride. The Drive Medical Silver also has anti-tippers and push to lock wheel locks to ensure user safety.
A carbon steel frame and nylon upholstery make this reclining wheelchair low-maintenance and easy to keep clean. The 8" caster and 24" rear wheels give you a smooth ride on most surfaces, and the weight capacity is 300lbs.
Pride Go-Chair
High-performance and well-built power wheelchair with a luxury design.
The Pride Go-Chair is a powerful and sleek power wheelchair offering you comfort and high performance. With several contemporary colors to choose from you can drive around in style. And the super-easy disassembly makes this power wheelchair perfect for travel.
The Go-chair has recently been completely re-engineered, with one of the improvements being increased weight capacity (300lbs). The speed has also been upgraded and is now 3.7 mph. With dual swing-away under-seat storage bins, you can safely put your belongings away.
A drawback is that this power chair is on the pricey side, but the high-quality and the sheer number of pleased customers indicate that it's worth it.
Sale
NOVA Lightweight Transport Chair
An easy to use and lightweight transport chair with versatile design, perfect for travel.
The NOVA Lightweight Transport Chair is a lightweight and compact transport chair with a weight capacity of 300lbs. With its versatile design, it's easy to maneuver both indoors and outdoors and allows for a smooth and easy ride. The patented locking hand brakes and 12" rough rear wheels make it ideal and safe for inclines, bumps, and all-terrain. The NOVA transport chair also comes with an adjustable seat belt and a small pouch for your belongings.
With flip-up and removable padded desk arms, it's easy to transfer the wheelchair user to a car, a bed or a chair. Footrests are also removable and adjustable for maximum comfort. The chair folds compactly, with a quick release fold-down back, making it ideal for transport and travel. And the lightweight aluminum frame makes The NOVA chair easy to lift and carry. It also comes with secondary wheel locks and removable Anti-Tippers for extra safety.
What to Consider When Buying a Wheelchair for a Stroke Patient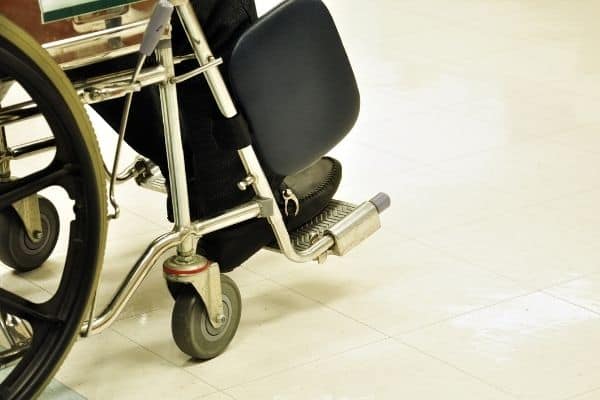 Finding the right wheelchair when recovering from a stroke will have a great impact on your rehabilitation. We've looked at a number of factors when choosing the chairs in this guide – including overall performance, special features, and safety. But bear in mind that there's no one size fits all when it comes to choosing a wheelchair because all stroke victims have different severity of symptoms.
Before making a purchase, think about your own unique circumstances – your symptoms, residual function, and lifestyle –  to determine which chair is best suited for you.
User Strength and Stability
Your strength and stability after a stroke will determine what chair is best for you.  If your stroke symptoms are more severe and your body strength is compromised, you might want to think about getting an electric wheelchair. Although manual wheelchairs have improved significantly over the years, they still require a certain amount of upper body strength. With an electric wheelchair, you gain the freedom to get around easier.
Wheelchair Weight and Size
It's essential to consider the weight and size of the wheelchair. Standard chairs weigh over 35 lbs, although there are, of course, variations to this. As a general rule – the lighter the chair is, the easier it is to propel. If you know you'll often be traveling you might want to consider choosing a lightweight and compact chair, for example, the Drive Medical Lightweight Steel Transport Wheelchair. 
You should also make sure that the seat is wide enough to accommodate the hips, without being so wide that you can't easily reach the wheels if self-propelling.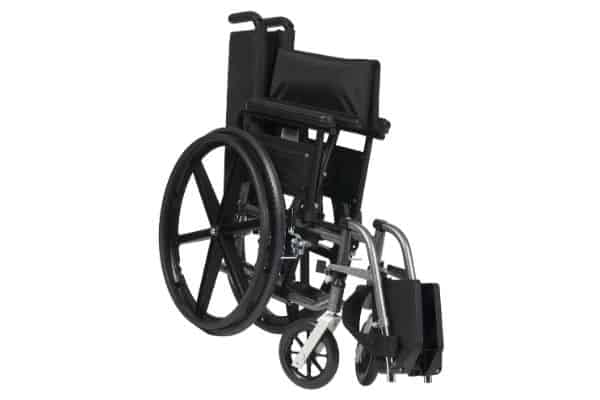 Transport and Storage Potentials
The ability to quickly and easily fold a wheelchair is an important factor for the user experience. All manual chairs fold down for transport, but some are more compact and easier to fold than others. Again, it comes down to your preferences and how frequently you'll need to transport or store your chair.
Lifestyle
Suffering from a stroke will, in one way or another, affect your lifestyle. How often do you intend to use the wheelchair each day? If you want to use it all day, you need to pay close attention to the seat and backrest when choosing a wheelchair, making sure that they have a high level of support to avoid pressure sores.
Some other questions to consider: how is your post stroke physical condition? Where will you be using the wheelchair? And of course, what is your budget?
Frequently Asked Questions
What is a hemiplegic wheelchair?
It is a wheelchair for hemiplegic patients, meaning that it's well suited for stroke victims where paralysis has affected one side of the body.
What is the best wheelchair for elderly?
With a huge market of wheelchairs and mobility aids, it can certainly be challenging to find your perfect match. The three basic types of wheelchairs are manual self-propelled wheelchairs, wheelchairs driven by a caregiver, and powered wheelchairs. Consider your individual needs and read through guides, like our buyers guide to the best wheelchairs, to make an informed purchase.
What problems do wheelchair users face?
Common problems that wheelchair users may face involve getting through small corridors in older buildings, going on public transit, and maneuvering your wheelchair on uneven ground and steep hills. And there's also the potential problem of pressure sores and muscle cramps after long periods of sitting.
However, remember that you're still able to travel, although it might be more time-consuming. And even if you're planning a longer trip somewhere, you can take your wheelchair on a plane. 
What is the best transport wheelchair?
The transport wheelchairs have a lighter frame and fold down to a compact size so you can easily store it in a vehicle. They're a great option for those with limited mobility to be able to go to and from the doctor's office and grocery store. There are a number of well-designed transport wheelchairs with features like handbrakes, adjustable seat height, and flip-up footrests.
Mirjam Ekstrom has worked in aged care and has personal experience caring for a person with dementia. Mirjam is a freelance copywriter and content writer, specializing in online articles that deliver information in a straight-forward and engaging format. Read more of Mirjam's work at mirjamcopy.com
Last update on 2023-11-28 / Affiliate links / Images from Amazon Product Advertising API