Best Mobility Scooter for Uneven Ground [Top 5 Picks for 2023]
If you're looking for the best mobility scooter for uneven ground, you've come to the right place. The best option for most people is the Drive Medical Scout Travel Power Scooter, which can handle lots of different terrains at an affordable price.
Keep reading to find out more about the best mobility scooters for uneven ground.
Invalid table id.
Related post: Are Mobility Scooters Covered by Medicare?
Best Mobility Scooter for Uneven Ground
Drive Medical Power Scooter
An easy-to-use, multipurpose scooter with a long travel range.
The Drive Medical Scout Travel Power Scooter is our top pick because of its versatility. It's a sturdy, lightweight scooter that is durable enough to handle most outdoor surfaces. It comes with a 20Ah battery, giving it a maximum travel range of 15 miles. It has a weight capacity of 300 pounds and is affordable, making it a perfect choice for a wide range of people. 
Pros:
Great range and durability

Comes apart and reassembles for easy transportation

Works well over many surfaces
Cons:
Doesn't make sharp turns

Difficult to assemble
The BUZZAROUND Long Range Travel Scooter is a great choice for those looking for a premium travel scooter. Features include a wraparound tiller, LED headlight, and wireless battery with a travel range of up to 18 miles. This scooter has plenty of foot room and an adjustable seat for maximum comfort. Front and rear suspension, along with durable tires, keep the scooter stable even over rough terrains.
Pros:
Highly durable

Easy to assemble

Comfortable
Cons:
Pride Mobility Scooter
An affordable scooter that offers great maneuverability.
If you're on a budget, the Pride Travel Pro Mobility Scooter might be for you. It is a three-wheel scooter with a range over six miles, a top speed of 4mph, and a weight capacity of 275 pounds. It is lightweight and easy to transport, has a great turn radius for getting around tight corners, and is comfortable to ride.
Pros:
Inexpensive

Lightweight and easy to transport

Smooth drive
Cons:
Less stable than four-wheel scooters

Cramped foot space
Veloce Long Range Scooter
A new type of travel scooter with premium range, weight capacity, and durability.
If you're looking for the best new product on the market, the Veloce Long Range Mobility Scooter is a top choice. It is bigger and better than most scooters on the market, boasting an impressive 28-35 mile range, 15mph top speed, and 350-pound weight capacity. It also comes with headlights, brake lights, and turn signals. If money's no option and you want the hottest new mobility scooter, this scooter may be exactly what you're looking for.
Pros:
Fantastic range

Fast for a mobility scooter

Heavy-duty design
Cons:
Speed displayed in kilometers only

Expensive
Drive Medical Scooter
This versatile scooter has an array of features at an affordable price.
If you're willing to sacrifice a few miles of distance for a more budget-friendly option, the Drive Medical Spitfire Travel Power Scooter has you covered. This scooter is essentially the same as the Drive Medical Scout reviewed above, but comes with a smaller battery at a lower cost. It has a maximum range of 9 miles and is a stable, easy-to-use choice for anyone up to 300 pounds.
Pros:
Easy to assemble

Affordable

Quiet motor
Cons:
Bumpy ride

Doesn't handle uphill/downhill angles
What to Consider When Buying a Mobility Scooter for Uneven Ground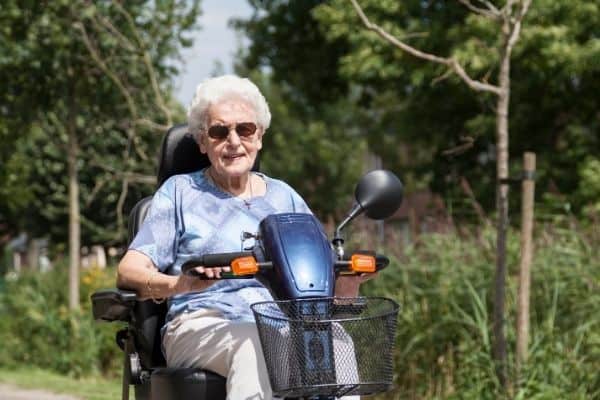 Range
The range is an important factor when choosing a mobility scooter for uneven ground. If you need your scooter to take you over pavement, grass, gravel, and dirt, chances are, you'll be traveling quite a distance. Scooter batteries can take a long time to charge, so having a long-range scooter is crucial to get where you're going and back again on a single charge. 
Stability
It's equally important to choose a scooter that isn't going to tip over if it hits a bump in the road. You can get an idea about a scooter's stability by looking for features such as ground clearance, climbing angle, and no-tip tires in the product description. 
Durability
When traveling over rough ground, you need a scooter that will hold up under stress. Good quality tires are especially important, but it's crucial that the entire scooter is made of good quality materials that won't fall apart after the first few uses.
Frequently Asked Questions
Can I use my scooter on uneven ground?
Some scooters are only rated for indoor use or smooth surfaces. If you need to travel over uneven ground such as grass or gravel, it's important to do your research and find a travel scooter that can handle these types of surfaces.
Will rain or snow damage my travel scooter?
Getting your scooter wet or leaving it out in the weather is never a good idea. Some scooters may be able to handle a light rain, but repeated exposure to the elements will cause your scooter to deteriorate over time. If you must go out on bad weather days, make sure to limit the exposure as much as possible, and clean and dry your scooter as soon as you get home.
How can I keep my travel scooter in top condition?
Regular maintenance is key to keeping your scooter in top condition. Make sure it is clean and dry after each trip, charge the battery fully between uses, and replace damaged parts as needed. Getting annual servicings is also recommended. If you take care of your scooter, it will take care of you.
Last update on 2023-01-23 / Affiliate links / Images from Amazon Product Advertising API