Best Wheelchair for Amputees [Our Top 5 Picks for 2023]
The right wheelchair can be a great advantage for an amputee. Our top pick is the Medline Lightweight Wheelchair with elevating leg rests and flip-back, desk-length arms. If you or a family member are adjusting to life after lower limb amputation, then choosing the right wheelchair is an important process.
Invalid table id.
Related post: Best Reclining Wheelchair with Headrest
Best Wheelchairs for Amputees' Quality of Life
Sale
Medline Lightweight Wheelchair
A wheelchair with elevating leg rests that offers comfort, durability, and a smooth ride.
The Medline Lightweight Wheelchair with elevating leg rests is our pick for best overall. With flip-back, desk-length arms, it's no trouble to maneuver under tables. The elevating leg rests are easy to reposition and remove.
Breathable nylon upholstery ensures comfort, and you can choose the seat width that provides the best fit for you. Additionally, the backrest is adjustable up and down.
Premium welding ensures durability, and the Mag wheels produce a smooth-rolling ride. The flat-free tires are low maintenance. At 33 pounds, this is a lightweight chair, but it will support users weighing up to 300 pounds. The light weight of this chair makes it convenient to pack it up and go!
Pros
Light weight for on-the-go users
Flip-up, desk-length arms
Swing-out leg rests may be elevated or removed
Reasonably priced
Cons
Does not recline
Not an ultra-lightweight wheelchair
Not a heavy-duty wheelchair
Ergo Flight Ergonomic Wheelchair
A lightweight wheelchair designed to align with the body's natural curves and functions.
The Ergonomic Wheelchair Ergo Flight by Karman is a good choice if you're looking for a chair that supports good posture. Maintaining good posture takes the pressure off various body parts and prevents sores, skin ulcers, and scoliosis. Based on advanced geometric engineering, this chair offers maximum body support while ensuring stability and mobility.
The ergonomic engineering extends to features that benefit the caregiver as well as the wheelchair user. For example, the caregiver can engage the brake without bending over.  Form, fit, function, and comfort all come together in this wheelchair by Karman Healthcare.
At only 19.8 pounds, the Karman Ergo Flight wheelchair is considered ultra-lightweight. The footrests are removable, and elevating leg rests are available on Karman's heavier models (25 pounds and up).
Pros
Ultra lightweight
Easy to lift, stow, and travel
Ergonomic design relieves pressure points
Ergonomically beneficial for caregivers, too
Flat-free polyurethane wheels
Cons
Elevating leg rests available only on heavier models
Armrests are not removable
Does not recline
Blue Streak Wheelchair
This medium-weight wheelchair offers durability and comfort at a budget price.
If you're trying to stay within a budget, the Drive Medical Blue Streak Wheelchair offers excellent features at an economical price. Detachable, desk-length arms can be flipped up for maneuverability. The elevating leg rests may be positioned to provide maximum comfort for you. The nylon seat and backrest are comfortable and easy to clean.
Weighing in at 41.25 pounds, this chair falls within the light-to-medium range. It's great for mobility at home and can be folded and stowed for travel, too. The solid rubber tires are mounted on composite wheels for a smooth ride and minimal maintenance.
Pros
Budget-friendly price
Elevating leg rests
Swing-out foot/leg rests are removable
Flip-up, detachable armrests
Choose your seat width for best fit
Cons
Heavier than lightweight or ultra-lightweight wheelchairs
Supports users only up to 250 pounds
Invacare Tracer IV
If you need a wheelchair with heavy-duty weight capacity, the Tracer IV provides great quality.
The Invacare Tracer IV Heavy-Duty Wheelchair supports users who weigh up to 450 pounds. Choose your seat width from 18-to-22 inches for a comfortable fit. This chair features a sturdy, reinforced frame with 14 gauge steel cross-braces. Its durable construction will hold up to heavy-duty use.
Strong, vinyl, inner liners prevent the seat and seat-back from stretching. The rear wheels are outfitted with flat-free inserts in the 24" composite pneumatic tires. The reinforced, heavy-duty frame combined with maneuverability make this wheelchair a great choice for active adults who need enhanced weight-bearing capacity.
Pros
Heavy-duty, reinforced frame
Weight capacity up to 450 lbs
Inner liners to prevent seat and seat-back stretching
Pneumatic tires with flat-free inserts
Cons
Not a lightweight wheelchair
Not easily portable
Upholstery material is not breathable
Lightweight Transport Wheelchair
Use this lightweight transport chair to get out and around town with your caregiver.
The Medline Ultralight Transport Wheelchair makes storage, transport, and travel easy for the caregiver of an amputee. A transport wheelchair is one that requires a caregiver to operate. With its light weight and easy handling, this transport chair makes it easy for you and your caregiver to get out for shopping, socializing, medical appointments, or any other reason.
This ultralight transport chair weighs only 14.8 pounds, but it has a weight-bearing capacity of 300 pounds. It's easy to fold up and stow in the trunk of our vehicle for travel. The upholstery is made of padded nylon, and this chair offers other convenient features such as a seat belt and a cup holder.
Pros
Ultra lightweight
Easy to stow and go
Comfortable, padded nylon seat material
Strong aluminum frame
Folds compactly for travel or storage
Cons
Must be operated by a caregiver
Not for use by the amputee alone
What to Consider When Buying a Wheelchair for an Amputee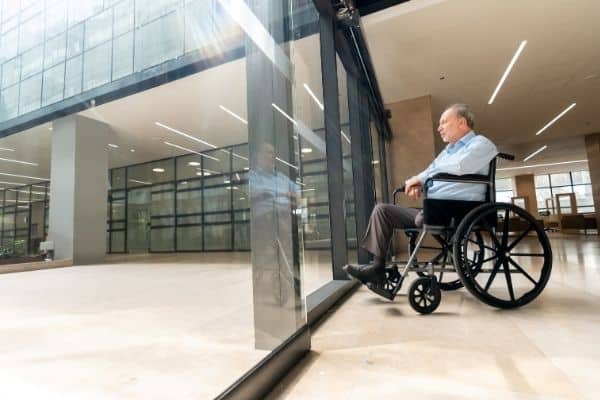 You or a loved one may be adjusting to life after amputation of a lower limb. As you shop for a wheelchair that best suits your needs, there are several issues to consider.
Pressure Relief
For wheelchair users, the problem of skin ulcers at pressure points is an important consideration. To avoid the complications of pressure ulcers, be sure that the wheelchair is a good fit. You should be able to shift your position to avoid developing skin ulcers. Additionally, you may need to add special cushions or other accessories, such as a sheepskin to relieve pressure points. Choose a wheelchair that allows you to take these precautionary measures.
Functional Mobility
The purpose of a wheelchair for an amputee is to provide mobility. Wheelchairs allow amputees to interact with the world. As you shop around for the right wheelchair, consider the mobility and maneuverability that you will need. For example, do you need a chair that allows you to sit at a desk? Do you need a chair that is easy to fold up and stow in the trunk of a car for outings? Look for features that will allow you to participate in the activities you enjoy.
Proper Fit and Balance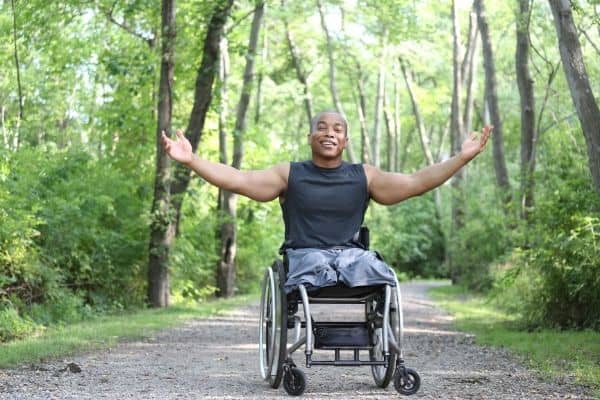 If you're shopping for a wheelchair for yourself or a loved one, it's important to consider how the chair fits the user and how it's balanced for safe and easy maneuvering. First, consider the size, weight, age, and physical condition of the person who will use the chair. Select a wheelchair that fits the person. Next, be sure that the chair is balanced for safety. Be aware that a double amputee will not have the weight of their legs to keep the chair from tipping backward.
Frequently Asked Questions
What are some wheelchair accessories for amputees?
Once you've selected a wheelchair, you may want to add appropriate accessories for comfort and support. A support assembly adds a horizontal surface protruding from the seat of the chair to support the upper leg of an amputee. These support systems may be padded and offer a swing-away detachment mechanism. Additionally, gel-filled or air-filled cushions provide pressure relief.
What are some challenges that amputees face?
Amputees face challenges when adjusting to mobility, self-care, and body image after an amputation. These challenges are psychological, emotional, and social. Learning to maneuver in a wheelchair is simply one challenge. Other challenges include phantom pain, a phenomenon where the amputee feels pain in the limb that has been amputated. Additionally, there are medical concerns regarding blood circulation from the heart as well as the risk of infection at the amputation site.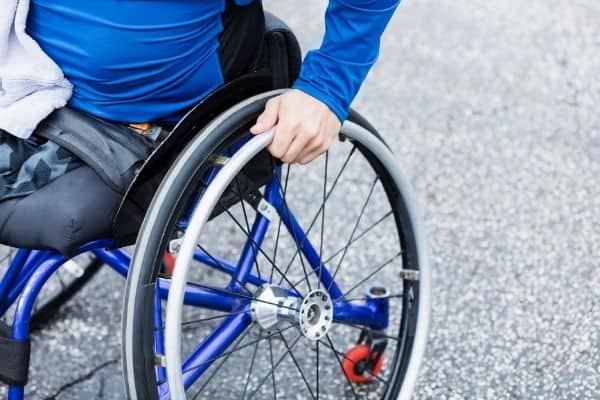 What should you not say to an amputee?
If you are a friend, family member, or caregiver for an amputee, you want to be as sensitive as possible to their social and emotional needs. Therefore, you may want to know what not to say.
One rule of thumb is not to ask personal questions that you would not ask of any able-bodied person. Additionally, you should avoid implying that the amputee can't do things to help themselves or that you need to do everything for them. Do be aware that the amputee is adjusting to a new body image. Don't say anything that implies they are inferior to anyone else.
Last update on 2023-01-19 / Affiliate links / Images from Amazon Product Advertising API