Forever Running Together: Dick & Rick Hoyt
There are some stories that are more amazing than others and this one is a story of perseverance, love and overcoming obstacles at any age.
For years they have been making things happen that they were told could not be done all the while leaving a trail that lets others know that anything is possible if you want it bad enough.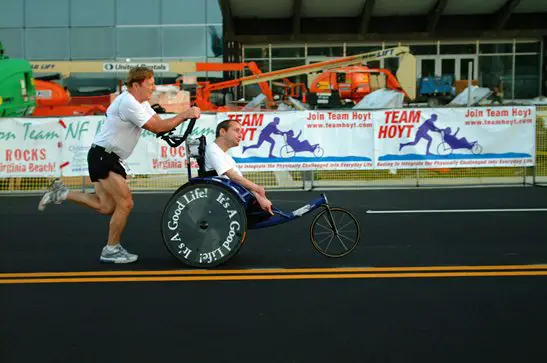 How It Started
Rick Hoyt was born in 1962 to Dick and Judy Hoyt, but due to a lack of oxygen during birth, he was diagnosed as a spastic quadriplegic with cerebral palsy. While Dick and Judy were recommended to place Rick in an institution – these parents refused. They did not see their son's limitations but instead chose to focus on the things he could do from sports to eventually a career.
Dick and Judy soon realized that although Rick could not walk or speak, he was quite astute; his eyes followed them around the room as they moved. When Rick was ten years old, a skilled group of engineers at Tufts University created an interactive computer for Rick that included a cursor used to highlight every letter of the alphabet; Rick selected the highlighted letter by tapping his head against a headpiece attached to his wheelchair. Rick's first "spoken" words were, "Go, Bruins!," indicating his early passion for sports.
Selflessness and Marathons
In 1977, at age fifteen, Rick told Dick that he wanted to participate in a five-mile benefit run for a lacrosse player who had been paralyzed. Although he was running a mile three times a week, Dick considered himself far from being a long-distance runner. Dick agreed to push Rick in his wheelchair, and they raced the following weekend. Dick and Rick finished all five miles, coming in next to last. That night, Rick told his father, "Dad, when I'm running, it feels like I'm not handicapped."
Three years later, in 1980, Dick and Rick discussed race events for the following year and decided they wanted to participate in the Boston Marathon in April 1981. They submitted their registration form to the Boston Athletic Association, but were turned down as runners and also turned down in the wheelchair division, though they were told they could line up behind the wheelchair athletes in 1981, 1982, and 1983. In 1981, their finishing time was 3 hours, 18 minutes, beating eighty-five per cent of other competitors. In 1982, they finished at 2 hours, 58 minutes, and in 1983, they crossed the finish line at 2 hours, 59 minutes, mere minutes from the qualifying time.
Despite having been turned down, Dick was perseverant. In 1983, he asked how he and Rick could become official entrants; they were told to run another marathon to qualify, using the qualifications of Rick's age group.  The Boston Marathon requires participants to have run a marathon in the past year with a qualifying time that is adjusted for age and gender; it is the only mass-participation marathon in the United States to do so. When Dick and Rick were aiming to qualify for the Boston Marathon, Dick was in his 40s, and Rick was in his 20s. The qualifying finishing time for the 20s age group at the time was 2 hours, 50 minutes.
That fall, Dick and Rick went to the Marine Corp Marathon, the annual race known as the "The People's Marathon," in Washington, D.C. The race is known as The People's Marathon because everyone who wants to participate qualifies. It was in this marathon that Dick and Rick qualified for the Boston Marathon, with a time of 2 hours, 45 minutes. In 1984, they ran the Boston Marathon as official entrants.
Preparing to Participate
To prepare for a marathon, Dick recommends preparing not only physically, but also mentally; his advice is to enjoy the experience. Dick and Rick never use personal training or coaching to prepare for an event.
Dick eats a healthy breakfast of a banana and yogurt with walnuts and blueberries; oatmeal; or an egg-white vegetarian omelet with fruit and whole wheat toast.
Dick exercises for three hours per day, and recommends focusing less on speed and weight, and more on taking the workout "slow and easy." Dick focuses on doing more reps and building endurance instead of loading on the weight; he sees that by adding too much weight to a workout, lifters' muscles simply bounce instead of being used and built. Dick works a variety of activity into his routine, alternating running, biking, swimming, or a combination of two.
Dick advises that stretching is important to keeping injury-free, and that it is just as important after a workout as before. He also recommends warming up before a workout.
Adapting with Age
When asked if their regimen has changed since the beginning of their journey, Dick and Rick agree that, "yes, we're getting older." The two travel and spend time on motivational speaking engagements, which permits less time to prepare for races. The two are also seeing their end-times slow with age, and because of their other commitments, they are participating in fewer races. When they first began, they were participating in fifty races per year, but have seen that become twenty to twenty-five races per year. Sometimes they participated in a marathon one day, and then a 10K race the next day, but now there are more days between each event. In their thirty-three years of racing together, they have participated in 1,070 races.
Dicks has seen his health improve since the beginning of his fitness journey. He says that when Rick first asked him to participate in races, he was not as healthy as he is now. In his 50s, he saw that he could compete in any age group; his and Rick's best end-time for a 5K race is 17 minutes, and the two completed 5 miles in 27 minutes.
Inspiring Others and Giving Hope
Both Dick and Rick are humble; they seem more impressed and motivated by the reactions and responses of others facing difficulty than by their own exceptional achievements.  In fact, they say that they are "inspired to continue" by people whose lives have been affected by the racing pair's persistence past what others said was impossible. The Hoyts receive letters from people around the world confronting suicide, drug and other addictions, and personal struggles, who are motivated by the Hoyts to press on.
When Dick and Rick began, their goal was to finish the race. They had never imagined that they would be participating in races, marathons, triathlons, or travelling around the world, speaking, and publishing DVDs and books.
Achievements On and Off the Track
The marathoning pair has achieved a lot not only on, but also off the tracks. In 1975, at the age of thirteen, Rick was finally admitted into public school. After high school, Rick attended Boston University, and he graduated with a degree in special education in 1993.  For Rick, having graduated from Boston University is one of his greatest achievements; he lived two hours away from home, and attended on his own. Rick is the eldest among his siblings, and his two brothers were athletic. Dick supported Rick's brothers in their athletic endeavours, so when the time came, Rick was thrilled to compete in athletic events as well. He loves to motivate and inspire people all over the world, regardless of their physical abilities.
Dick served his country for thirty-seven years as a Lieutenant Colonel from the Air National Guard before he retired in 1995.  However, when Dick was asked what he considers his greatest achievement, he said it is to be able to run with his son. While Rick cannot talk in the traditional sense, or use his legs or arms in the races, Dick and Rick have gone from being unqualified to being accepted for who they are. Having once been rejected by race committees and others who said they were not "enough," the Hoyts now have run with the best; Rick was the first disabled person to compete in the Ironman triathlon in Hawaii, and both his and Dick's names reside in the Hall of Fame.
Adding to their list of achievements, Dick and Rick biked and ran across the United States in 1992, completing a full 3,735 miles in 45 days.
Considering Retirement?
Dick, in his 70s, and Rick, 50, have both discussed retirement. When they began racing, they fought to get into races, and now they have been thanked by people all over the globe who have been inspired by their story and encouraged to keep going. They say that while there is no end in sight, if either one of them says "enough," it will be enough.
Looking Ahead
The Hoyts' message is "Yes You Can!," and they believe that anyone can do anything. The Hoyts do not accept "No, You Can't." Despite the opposition, they persisted, and beat the 2 hour, 50 minute qualifying time to compete in the Boston Marathon. To someone facing a seemingly unachievable goal, Dick would say, "make up your mind and you will be able to do it." He believes that it is important to remember that "there is help out there"; he encourages all people, regardless of their circumstances, to "never give up." These are not positive-thinking catchphrases for Dick; for him, they are real, and he knows that they are true because he and Rick have lived them. When Rick was born, "they said "forget him""; but Dick says, "look what he has turned into." In Dick's words, "never take no for an answer."

To learn more about Dick and Rick Hoyt and see the books, DVDs, and products they have available, please visit their website  www.teamhoyt.com.