Gardening for Seniors | Benefits + Tips for Seniors to Get Active in the Garden
Gardening for seniors is a wonderful activity to help promote physical and mental health in older individuals. Cultivating a garden is empowering and can provide a wealth of benefits that can help our seniors stay active without too much strain on the body when done correctly. 
These days we have a wide range of modified gardening tools, equipment and other useful items available to make the experience as enjoyable and safe for older people as possible.
I know that when the summer blooms begin, I feel an immediate beckoning to my natural spaces and I don't think that sense of purpose-driven wonder ever escapes us, regardless of age. 
Today we will be looking at the benefits of gardening for seniors as well as outline how we or our caregivers can create a garden that is safe, productive and enjoyable for our older loved ones. 
10 Benefits of Gardening for Seniors
There is an abundance of research that has been carried out highlighting the extensive benefits gardening can have in older individuals. While there are certain precautions to consider, cultivating some sort of vegetation can provide seniors with a large variety of comfort and satisfaction to help improve their overall well-being. 
Common gardening activities like digging, planting, watering and harvesting can quickly create sensory enjoyment and stimulation while aiding the bodies and minds of our seniors. 
Here are the 10 main benefits of gardening for seniors:
1. Physical Activity
It is an enjoyable form of physical activity that helps burn calories similar to exercise. Reportedly, light gardening can burn up to 330 calories per hour, which in turn boosts physical wellness and durability in older individuals.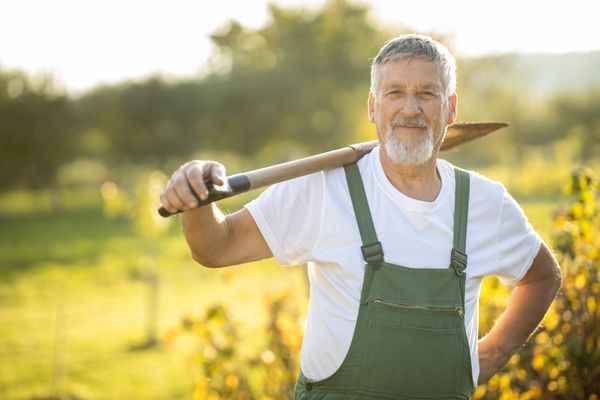 2. Gardening Improves Mobility and Flexibility
By activating the lesser-used muscle groups while gardening, seniors will benefit from increased mobility, flexibility and overall strength building. This can help in recovery after strokes or many other injuries. 
3. Improved Motor Skills
Gardening naturally stimulates our motor functions and skills, helping to keep seniors supple, engaged and confident in performing various tasks around the yard. Gardening will also help promote mind-muscle connection, which is also an important motor skill. 
4. Gardening Improves Endurance and Strength
On top of being a good form of physical activity, gardening for seniors can improve overall body and mind endurance while stimulating muscle development and retention. 
5. Keeps Joints and Bones Healthy
The increased mobility will ensure joints and bones are kept in optimal condition while our seniors grow older. This can help prevent many common ailments and discomforts older individuals tend to experience as time passes. 
6. Gardening Reduces Stress
Nurturing a garden can quickly help to relieve stress and promote relaxation, especially for our older populous. By focusing on and caring for flowers, plants or vegetables, we can empower our seniors and help keep them as stress-free as possible. 
7. Provides Stimulation and Interest in the Outdoors
The outdoors has always been a source of therapy and wonder for us as people. By promoting time outdoors, we can ensure our seniors retain that sense of connection and love to natural spaces from the comfort of their living environments.
8. Promotes Great Social Connection
Gardening for seniors promotes social interaction and allows for improved social skills and better connection with other seniors which in turn makes our elders feel more seen, heard and appreciated. Social interaction can quickly help reduce symptoms of depression and anxiety thanks to increased serotonin levels. 
9. Gardening Provides Nutritious Home-Grown Produce
Vegetable gardens are a fantastic way to provide our seniors with their very own home-grown produce. The sense of achievement and appreciation for produce that has been grown by our own hands is something we can all resonate with. Home-grown produce is nutritious and accessible for our seniors. 
10. Boosts Overall Immunity
While gardening, we expose ourselves to important bacteria and other microbes that help keep our immune systems healthy and ready to tackle a variety of health conditions and infections. Gardening will ensure our elders are still being exposed to small amounts of these microbes, ensuring their immune systems remain as healthy and robust as possible.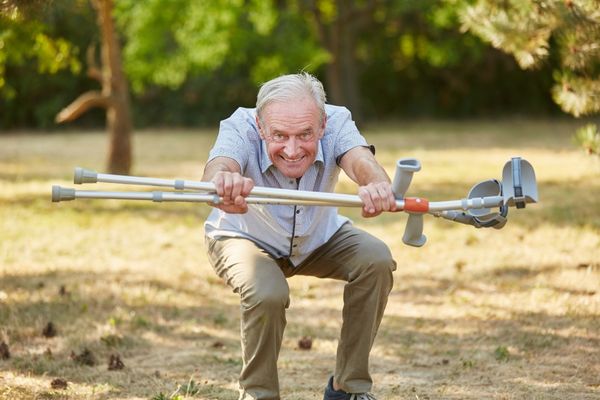 Important Health Considerations in the Garden
Some medical conditions and physical disabilities can prevent certain elderly people from gardening. Be sure to first consult with your loved one's physician or doctor before they begin their cultivation journey. 
With proper planning, we can empower our seniors or their caregivers to create a safe and accessible garden to nurture.  
Here are a few age-related health conditions to consider when gardening:
Skin Health – Fragile or thinning skin can make seniors more susceptible to bruises, bumps, scratches and sunburn.
Vision – Eye health is also important. Loss of vision and general poor eyesight can restrict activity in the garden. 
Mental Ability – Thinking and memory issues like dementia or similar conditions can also restrict our elderly in the garden, especially if they're alone.
Body Temperature – Some may experience severe sensitivity to changes in temperature or a tendency to dehydrate faster than others. This can lead to heat exhaustion or heat stroke. 
Musculoskeletal Health – Issues like osteoporosis and arthritis can restrict movement, flexibility and the capacity to use gardening tools. Falls will also be more common if one's balance is not optimal. 
Gardening for Seniors – Safety and Gardening Tips 
While there are many benefits of gardening for seniors, safety should always be a priority. We need to create the safest possible outdoor spaces for our seniors to go about their tasks without having to overly worry about injury or exhaustion. 
Family and caregivers should always be aware of possible falls, overheating or wandering. 
Furthermore, modified tools and equipment should be used that are adapted to reduce the stress associated with gardening for seniors.
Here are some important safety and gardening tips to consider.
Use vertical raised garden planters that are easily accessible for planting and harvesting. Trellises are also a great option.
Use potted plants placed in raised locations to reduce bending and stooping.
Use lightweight tools, buckets and other equipment that are easier to handle. 
Invest in gardening tools that help reduce the physical strain of gardening. Garden knee and kneeler pads are a great example.
Always use sun protection like sunscreen, umbrellas, hats and glasses. Working in the garden in the mornings or late afternoons is always preferred over midday. 
Ensure fresh water is always available.
Have seating readily available around the garden. 
In cases of dementia, use secured gardens with gates rather than open-form spaces.
Ensure that paths and walkways are flat and non-slip.
Tend to any cuts, bruises or insect bites straight away.
Encourage frequent breaks.
Wear protective clothing if needed.
Store garden equipment safely. 
Avoid alcohol or strong medications while gardening.
Gardening for Seniors – In Conclusion
It's easy to see why gardening for seniors is such a popular health-promoting activity globally. Whether it's plants, flowers or vegetables you choose to establish, cultivating a garden can have a significantly positive impact on our seniors, both mentally and physically. 
Now that you are aware of the benefits of gardening for seniors, I hope you will take a little more time to enjoy the outdoors and craft a garden you can enjoy for many years to come. 
Guest Contribution by:
Maisie Blevins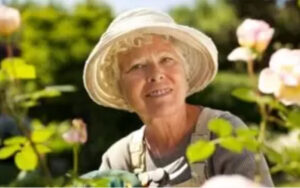 Hi, I'm Maisie Blevins and I have been sharing my journey and expertise on Aussie Green Thumb since 2021. I have been an avid gardener for most of my life. Now I love to potter around the garden caring for my flowers, vegetables and fruit trees.