Who Should Not Use a Rollator Walker
A rollator walker is a useful aid for people with limited mobility, offering more balance and helping them from point a to point b. Sometimes referred to as a rolling walker with a seat, the rollator is generally equipped with four wheels, brakes, and a seat.
However, a rollator walker isn't always the best option for everyone. If you're in the process of getting a mobility aid but unsure of what suits you best, this article will tell you about the purpose of walkers and rollators so you can work out which one is right for you.
Related Post: Best Walkers and Rollators for Seniors
Rollator vs. Walker – What is the Difference?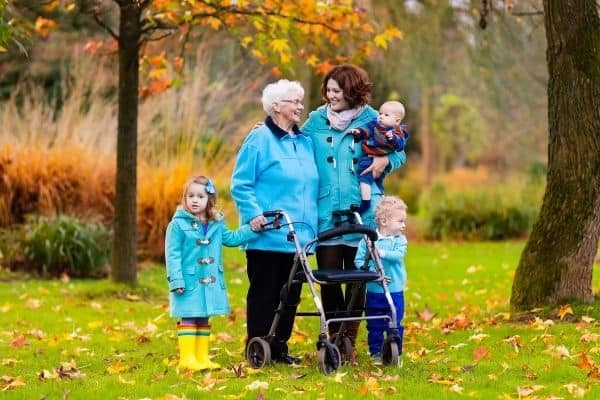 The main difference between a rollator and a walker is that the rollator has wheels and some other features. It's easier to maneuver and you have the option of using the seat when you need a rest. A walker, on the other hand, is a four-legged metal frame which means you need to lift it when taking a step. However, there are accessories available to help the user slide forward.
Rollators are usually larger and can therefore be more difficult to maneuver indoors and in small spaces. A walker can be trickier to navigate and move, but it offers more stability since it has four legs.
When should I use a rollator?
Rollators are more popular since the wheels make them easier to push around. They're also more versatile, with the option of using the seat for resting. Some rollators also have removable backs for added balance when you're sitting.
However, they can't support as much weight as a walker because the wheels make them less stable. Using the rollator to hold up body weight is not recommended and can result in falls. The conclusion is that if you can bear more of your weight but still need some extra support, and you want features like a seat and storage compartments, you might prefer a rollator.
A rollator is the best choice if you:
Want the option of sitting down
Want a place to carry items safely
Have enough balance to safely walk without putting weight on the rollator
When should I not use a rollator walker?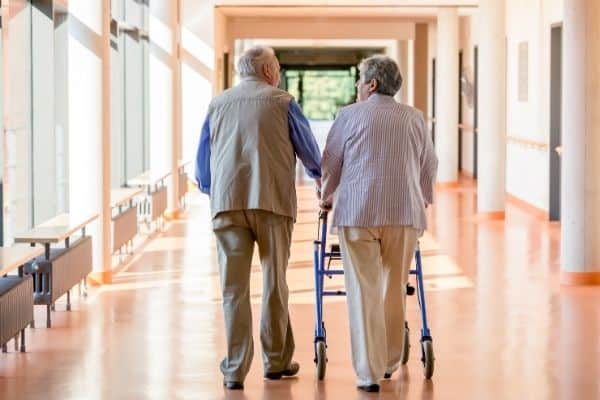 There are a few instances when you should not use a rollator walker. First of all, it does require some upper body strength and balance. If you cannot safely stand, either due to balance issues, strength and/or endurance, you should not use a rollator walker and instead look at getting a lightweight wheelchair.
If you're recovering from surgery and can't put any weight on your leg or foot – you should use a walker instead of a rollator. However, it's always best to consult a medical professional before making a purchase.
Using a Walker
There are many different types of walkers to choose from, such as folding walkers, walkers with front wheels, and height-adjustable walkers. They are ideal for people who can still walk but might need a little extra help and stability, allowing the user to lean on the frame for rest and support.
So if you need something to support a lot of your weight, for example, if you can't put pressure on your foot or leg, a walking frame might be best for you. In other instances, a rollator or another mobility aid might be a more comfortable option. Walkers can be frustrating to use as you have to pick the frame up every two steps.
A walker is the best choice if you:
Need to keep weight off your foot or leg, for example, after a fracture or surgery
Need a sturdy mobility aid when moving from your wheelchair to a chair/bed/couch/car
Need a mobility aid to use in your home where your rollator might be too big to fit
Factors to Consider When Choosing Your Mobility Aid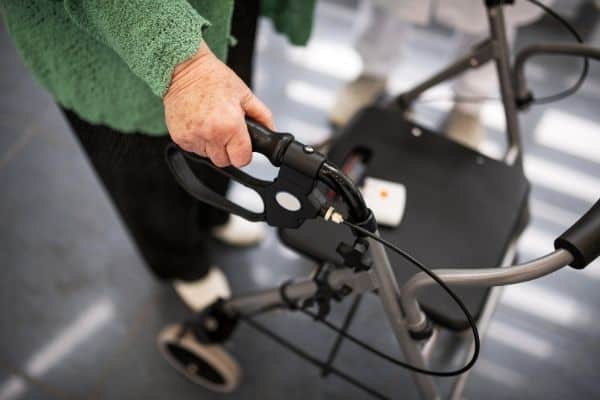 There are a few factors you need to consider when choosing the right mobility aid for your needs. Here are some things to think about:
Your upper body strength – Some products may require constant lifting, so you need to make sure you're able to do so.
Your stability and balance – Can you handle a product with wheels or do you need something sturdier to support your balance?
Storage and transport – If you're traveling frequently, it's a good idea to consider how easily your mobility aid folds down for storage and transport.
Height and weight – Make sure to consider your physical conditions, such as height and weight, to find the right fit for you. If you're short of stature, we have a guide to choosing the best rollator for short people!
Budget – The prices of mobility aids have a huge range, and budget is always a factor to consider before making a purchase.
Frequently Asked Questions
Do I need a rollator or a walker?
If you need a mobility aid that provides more stable support when you're moving around, then a walker might be the best option for you. And if you're a patient recovering from surgery, a walker could be ideal since it allows you to not put weight on your injured foot or leg. But bear in mind that it requires enough upper body strength to be shifted forward as you move.
However, a rollator is ideal if you can hold your balance but want the option of sitting down regularly and have somewhere to store your daily necessities. A rollator is also good for the elderly with weak arms or grip, as you can simply push it forward as you move.
Do rollator walkers fold up?
Yes, the majority of rollator walkers on the market today will fold up for easy storage and transport. Some rollators are specifically designed for portability and will fold up to a more compact size, so it's good to always look at the specificities of the product before making a purchase.
How do you walk with a rollator walker?
Begin by standing close to the walker with both hands on the handles and feet between the rear wheels. Once you feel stable enough, carefully squeeze the brakes to unlock them. Then walk normally, close to the walker, keeping your back as straight as possible and your eyes looking forward. To slow your rollator walker on a slope, just squeeze or pull up on the brakes.